Mealtime Partners, Inc.
Specializing in Assistive Dining and Drinking Equipment
October 2012 Independent Eating and Drinking Newsletter
Most people snack either once in a while, or often. For those who snack more than eating regular meals, their behavior is described as "grazing"(defined by the Merriam-Webster website as: to eat small portions of food throughout the day). Children function better when they are provided with a snack between meals, as they are very active and are not able to (or do not choose to) consume enough calories at mealtime to sustain them until the next meal. When they "run out" of calories, their energy declines and they often become grouchy and irritable. This problem is easily remedied by a snack.
For people who do not have the hand and/or arm function to feed themselves, snacking is not a spontaneous occurrence where they decide that they want something to eat, pick up whatever they have available and think sounds good, and begin eating. It must be activated by either an invitation from a caregiver "would you like a snack?", or by the consumer themselves requesting something to eat. It becomes a "mini meal" rather than a leisurely few moments spent eating slowly while continuing whatever activity they may be involved in. As an example of this, imagine eating popcorn while watching television. You sit with a bowl or bag of popcorn in your lap and put a kernel (or a few kernels) of popcorn in your mouth every few minutes. You chew, possibly have a sip of a drink, and then eat another kernel or two. The process may go on for a long time.
Now imagine a caregiver providing this type of experience to a person who is unable to feed themselves. It requires the caregiver to dedicate a considerable amount of time to providing the snack. For it to be enjoyed in the same way most people enjoy it, it should not be hurried but be a relaxed and time consuming event. You may need to sit for as long as half an hour placing a kernel of corn in the person's mouth once every minute or two. Typically caregivers do not have this amount of discretionary time available to facilitate this type of experience. Therefore, snacking in this way is not an experience that many people with disabilities have the opportunity to enjoy.
For someone who must be fed, when a snack is provided, it does not fulfill the experience of snacking as described above, but becomes an experience similar to mealtimes. It is just a smaller amount of food or a different type of food than is normally provided at mealtimes. It is sometimes quite difficult to eat common snack foods like peanuts, potato chips, and popcorn quickly. Therefore, the quantity is either very limited because of the time it takes to chew, or the food is eaten too quickly to be safe. Neither of these creates a pleasurable experience that snack time is expected to be.
Assistive technology, like the Mealtime Partner Dining System, allows individuals who are unable to feed themselves to eat independently. When they want a snack, equipment of this type allows the user to eat at whatever pace they choose and can serve a wide variety of foods. Not only does the Mealtime Partner Dining System serve snack foods like popcorn, Cheetos, cookies, and Goldfish, but it can serve full meals ranging from meat and potatoes to texture controlled meals. For more information about the Mealtime Partner Dining System, click here.
The holiday season is rapidly approaching and it is time to make plans for the holidays

Imagine sitting down to Thanksgiving Dinner with family and friends and your family member, who last year was fed, being able to eat their meal independently this year. The Mealtime Partner Dining System empowers its users to be able to feed themselves. No longer must they wait to be fed; instead they can enjoy their meal at the pace they choose, with everyone else. What a wonderful way to celebrate the Thanksgiving feast - together!




The Mealtime Partner Dining System

To learn more about how to gain mealtime independence using the

Mealtime Partner Dining System

, or, if you need help selecting the best system, call or

email Mealtime Partners

for help choosing the most appropriate system.
Answers to Questions about the Hydration Backpack with Drinking Tube Positioning
When Mealtime Partners updated the Hydration Backpack with Drinking Tube Positioning the changes in the system were described in the February 2012 Newsletter. However, we have had several questions about the drinking system that were not addressed in that article that we will respond to in this article.
Question: How long is the drinking tube? There are two measurements that are significant to the drinking tube: 1) the total length of the drinking tube between the bite-valve (also called the mouthpiece) and where the drinking tube attaches to the bladder; and, 2) the length of the drinking tube that is enclosed in the flexible tubing (or, flex-tube) that holds the drinking tube and bite-valve in position. The total length of the drinking tube is 42 inches (107 cm). The flexible tube is 22 inches (56 cm) long. The mouthpiece assembly, comprised of the on/off valve and the bite-valve, adds another 3.5 inches (9 cm) in length at the user end of the flexible tubing.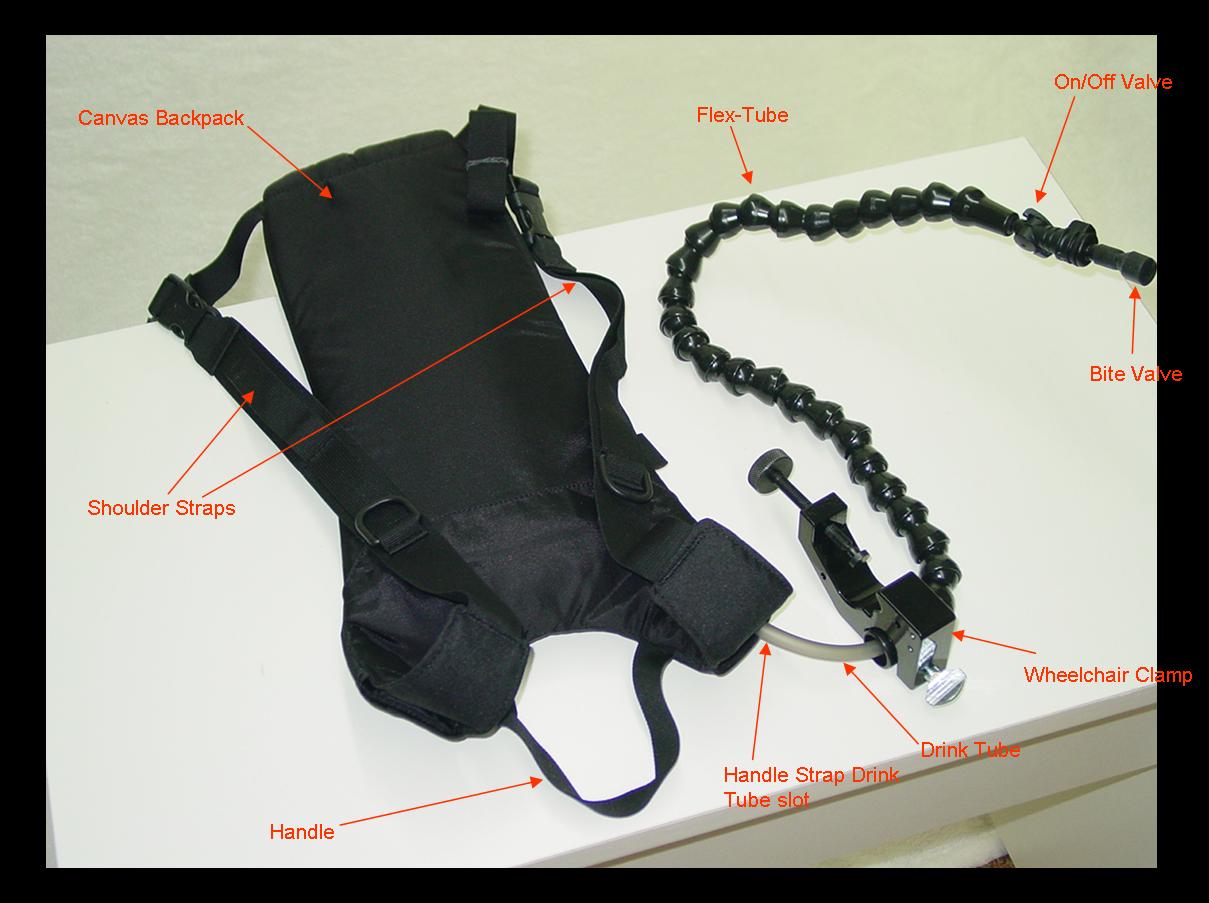 The Components Comprising the Hydration Backpack with Drinking Tube Positioning
Question: How much liquid does the Hydration Backpack bladder hold? The standard Hydration Backpack bladder holds 70 fluid ounces (approximately 2 liters) of water.
Question: Where is the best place to attach the wheelchair clamp to the wheelchair? It is recommended that the clamp be attached to one of the handles of the wheelchair. If the wheelchair does not have handles, the clamp should be attached to the frame of the back of the wheelchair, approximately at the level of the user's shoulder. This allows the backpack to hang below the level of the bite-valve, avoiding water siphoning out of the bladder after the first sip of water is taken. (The liquid won't really flow because it is restricted by the bite-valve. However, it might drip a little if the bite-valve is left at a level where siphoning can occur.)
Question: Can ice be put in the Hydration Backpack bladder? Yes, ice can be put in the bladder but it is recommended that no more than a few cubes are put in at one time. If a lot of ice is put into the bladder, it displaces the water that may be needed and may not melt quickly enough to reliably provide a constant supply of water. Additionally, ice makes it more difficult to close the bladder mouth, and causes the bladder to bulge and prevents the backpack from laying flat against the back of the wheelchair. As an alternate to ice, the bladder can be filled with water and chilled prior to use, or simply put chilled water in it.
Question: How do I clean the Hydration Backpack drinking tube and bladder? Each Hydration Backpack system is sent out with full instructions for installation, cleaning and care. These instructions can be viewed at the Mealtime Partners webpage: Mealtime Partners Hydration Backpack Drinking System with Drinking Tube Positioning - Use and Maintenance Instructions. It is important to clean these parts regularly and these instructions are designed to make the process easy and straight forward.
Question: Can hot liquids be drunk from a Hydration Backpack? It is not recommended that anything other than water be put in this drinking system. If the user wishes to drink warm water, simply put room temperature water in the bladder (not hot water). Boiling water will damage the bladder and tubing. For hot drinks like coffee or tea, another drinking system, like the Front Mounted Drinking System, should be used.
Did You Know? Last month's "did you know" section of our Newsletter discussed the dangers of children swallowing rare earth magnets. To continue the theme of children swallowing things that are harmful to them, this month we want to ask the question:

Did you know that there is a serious danger associated with button batteries? Button batteries are lithium batteries that are used in numerous household products including cell phones, remote controls, musical greeting cards, and various toys. If swallowed, these batteries can burn the throat, esophagus, stomach or intestines because the moisture inside the body can spark a micro-current which will burn a hole right through the tissue where the battery is lodged. Serious damage can be caused in less than two hours and, therefore, if a child is suspected of swallowing a battery, emergency medical help should be sought immediately. A recent study shows that every three hours a child shows up in a U.S. emergency room with a battery that's been swallowed, or placed in the mouth, ears, or nose. The ideal situation to avoid the risk of small children swallowing these batteries is to make sure that no products containing them are within the reach of children. However, for items that cannot be easily removed from the environment, the battery compartments should be taped shut.
Mealtime Partners Website Navigation:
Home | Dining | Drinking | Videos | All Products | Warranty | Ordering | Calendar | FAQ | Newsletters | Contact
Please send comments and suggestions to newsletters@mealtimepartners.com
Copyright © Mealtime Partners, Inc. 2012
All rights reserved.