Mealtime Partners, Inc.
Specializing in Assistive Dining and Drinking Equipment
November 2016 Independent Eating and Drinking Newsletter
The holiday season is fast approaching and with it come a lot of changes in family routines: Time off from school and work; family and friends visiting; parties; special meals with unfamiliar foods, etc. If you have a family member who finds change difficult to cope with, now is the time to practice in anticipation of the changes actually happening.
When daily routines change, it is wise to try and maintain a similar schedule to the typical one during normal times. Wake up and go to bed at approximately the same times. Eat meals at about the same time and make sure that the whole family gets plenty of physical activity, if possible. In this way family member's "body clocks" don't get entirely out of sync. This can help to keep stress levels to a minimum.
One of the biggest problems during the holidays for people who do not adjust well to change, is being served food that is not familiar. Frequently, at special meals, foods are served that are unusual to some of those eating, because they are not standard food items. For those people the food is strange and simply because it is different, it is scary. To avoid meals being unpleasant for a family member because they are not familiar with food items, make dishes that you know will be served during holiday meals, and serve them a few times before the holidays. Choose side dishes that are easy to fix and that are easy to recognize when they are served. Dishes with sweet potatoes, or yams, in them are colorful and easy to identify but may not be well received at first. The same thing applies to old standards like green bean casserole. That is why it is wise to do practice runs and find out the foods that will be enjoyed at those special meals. In this way there will be some food at each meal that will be familiar and enjoyable to everyone, even if they don't eat everything that is being offered.
Another potential problem can be the noise level when lots of people get together. There is usually a higher than normal noise level when you get a group of people together socially. Even the fact that people are enjoying themselves and are laughing, increases the sound level in a room. If this is a bothersome situation for a family member, noise dampening headphones can help insulate them from the discomfort caused by a loud environment.
When family members haven't seen each other in a while, when they do see each other they frequently hug and kiss each other. This is fine for most people, but some individuals are tactilely defensive and do not like to be touched, especially when they don't know the person who is touching them very well. Family members expect children to remember them from visit to visit, yet often the children perceive the person as someone new and are unwilling to have them hug them. Also, in today's environment where children are taught not to interact with strangers, family members and friends should be aware that "stranger danger" makes children cautious of interacting with new or vaguely familiar people. All of us should remember to respect the boundaries that family members are comfortable with.
Lastly, remember that everyone should drink lots of water during the holidays. Often when people are busy, or in each other's homes, they may drink all sorts of liquids including juice, soda, or alcoholic drinks, but they should always remember to consume plenty of water in addition to the other drinks. This applies to everyone in the family, and grandparents, as well as children should be encouraged to drink water throughout every day of the holidays.
Shop Early for Holiday Gifts!
Mealtime Partners offers FREE Gift Wrapping on All Purchases Until December 23, 2016
To request gift wrapping for your order, simply tell us in the "Message or Comment" section of the Order Form that you would like your gift purchase wrapped. If you would like to include a message to the gift recipient, please tell us what you want to say, as well.
Independent Drinking
A hands-free drinking system is a wonderful present that can enable someone to drink independently throughout the day and is a gift that they will appreciate throughout the year.

Mealtime Partners various drinking systems allow many individuals who are unable to use their hands to take a drink, to drink independently. The Hydration Backpack with Drinking Tube Positioning (pictured below) provides hands free drinking throughout the day for those who sit in a wheelchair and are unable to lift or hold a cup or glass. The drinking system is quick and easy to set up, the liquid container fits on the back of a wheelchair and the drinking tube can be positioned to meet the unique positioning needs of each individual.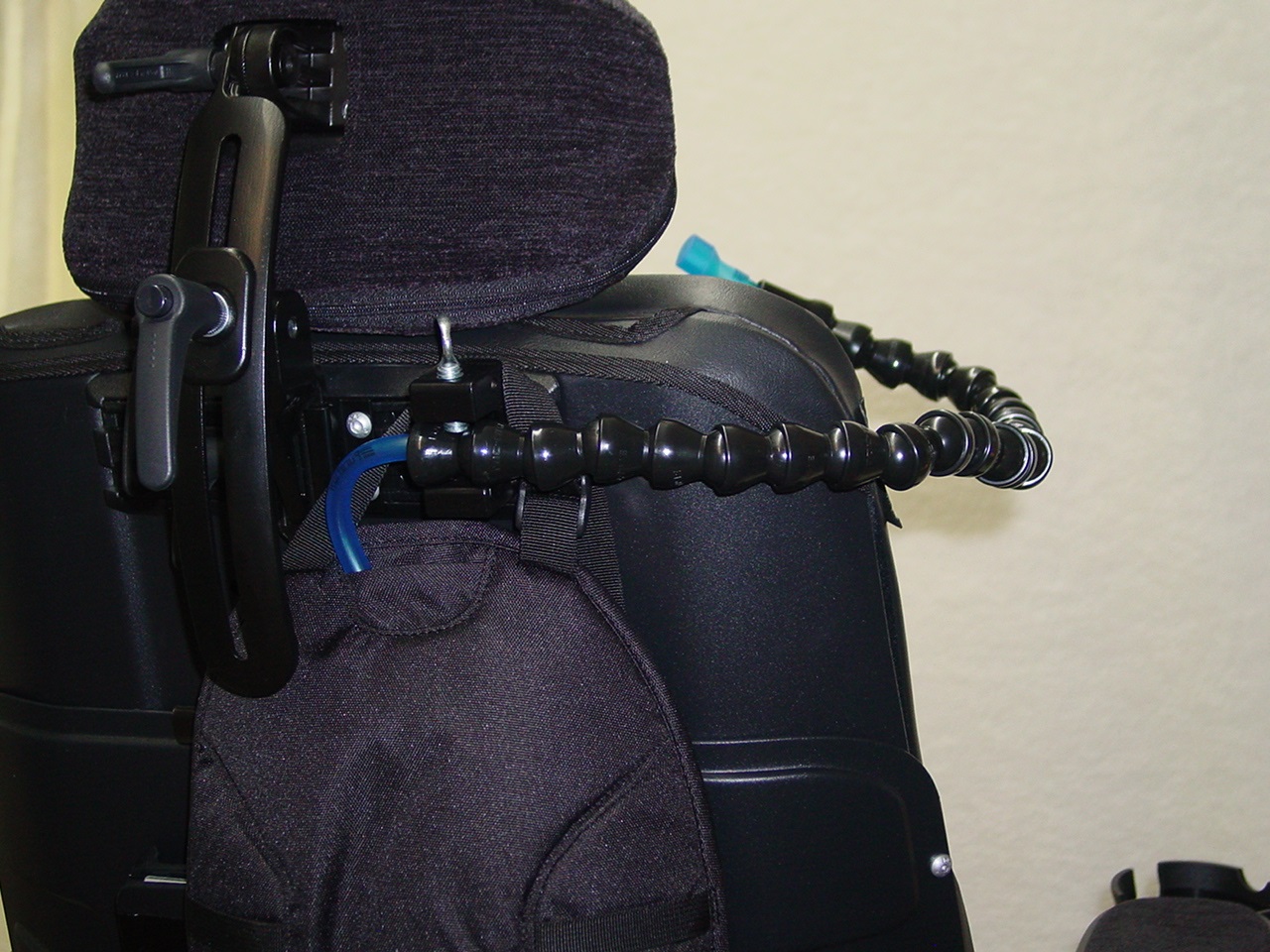 Easy to install and remove from the wheelchair to fill or clean.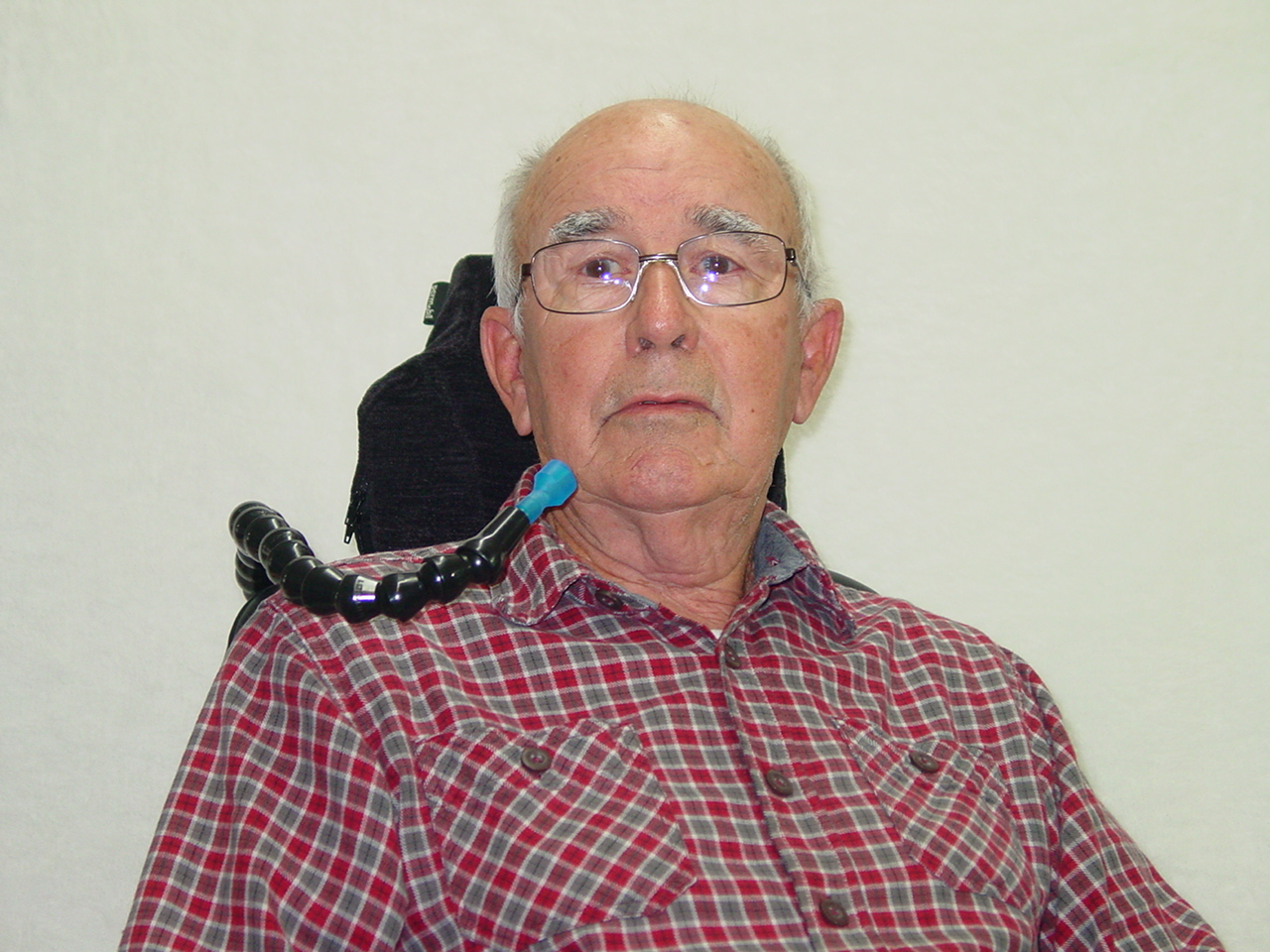 Hands-free drinking, 70 fluid ounces of water available for people on the go!
The Front Mounted Drinking Systems pictured below, can position a variety of cups and drink containers very close to the user's mouth for hands free drinking and allows a variety of other drinks to be made available throughout the day. For example, coffee in the morning, ice tea with lunch, a can of soda in the afternoon and a glass of milk before bed. The user drinks from their own container using a disposable straw. Because the straws and most of the containers can be disposed of, or washed in a dishwasher, it is the easiest drinking system to clean. It is available with several lengths of flex-arms and can be mounted on a variety of wheelchairs.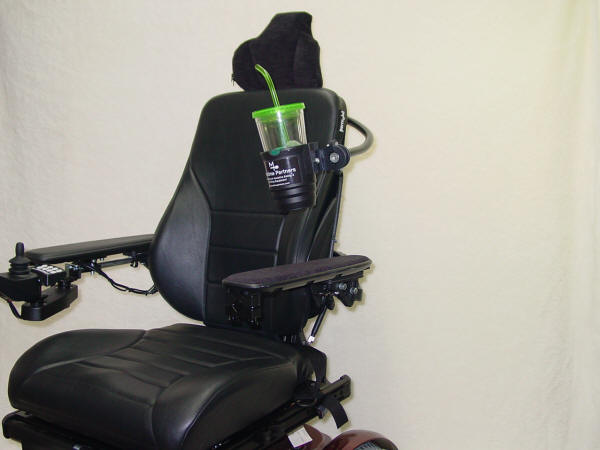 Front Mounted Drinking System on Wheelchair with Slide Track Mounting Rails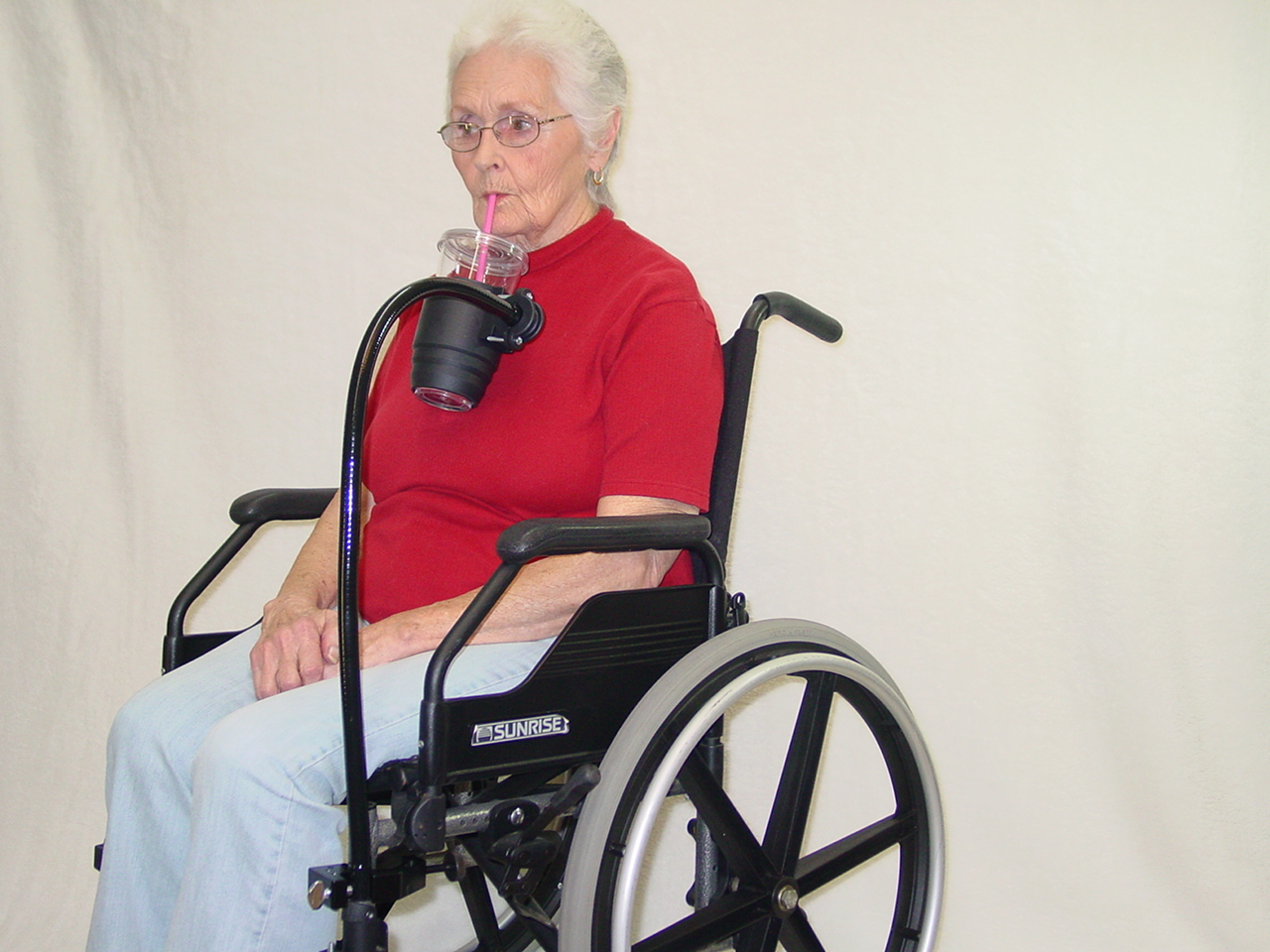 Front Mounted Drinking System on Manual Wheelchair
All of the Mealtime Partners drinking systems are available for attaching to manual wheelchairs (i.e., wheelchairs with a tubular handle or other tubular structural components, as pictured above) and for powered wheelchairs with slide track mounting rails. To order any of our drinking products,

click here

, or call us at 800-996-8607.
Shakespeare wrote in Romeo and Juliet (Act 2, scene 2):
"What's in a name? That which we call a rose
By any other name would smell as sweet".
In the world of assistive technology (AT), names typically follow the common name of whatever AT is being referred to: wheelchairs or powered wheelchairs; standers; walkers; bath chair; etc. However, devices used for communicating, whether they are IPads or dedicated devices, are referred to as alternative and augmentative communication devices, or AAC devices, a name that was derived when AAC devices were first invented. In the world of AT for independent eating, the term feeder was the commonly used expression over the past 30 years. Yet, if you conduct a Google search for the word feeder the top links are to items that feed birds and other animals, and for a Welsh rock band. Lower in the ranks are ammunition feeders for guns, assembly machines in factories, and equipment used in feed lots to fatten cattle.
Because equipment that allows people, who are unable to eat independently, to feed themselves, should be viewed as more dignified than any of the items listed above, when research first began to create the Mealtime Partner Dining Device the device was referred to as an assistive dining device. It was hoped that the term dining device would eventually replace the term feeder. However, years later many people are still using the term feeder, or derivations like: assistive feeder, powered feeder, feeder for the disabled, self-feeder, robotic feeder, adaptive feeder, feeding device, etc.
Perhaps this ongoing use of the word feeder occurs because people talk about the act of feeding someone or something. By providing food to someone we see ourselves as feeding them. This is quite natural to think because when we feed babies and young children we say that we have fed the baby, or that we are feeding the children. However, in the natural progression of development we stop feeding our children and they begin feeding themselves or eating independently. Mealtime Partners June 2010 Newsletter discusses the difference in the concept of eating and feeding and may be helpful to provide a more detailed insight into this topic.
Though it is understandable why we use the term feeder, nevertheless, it should be understood that we stop feeding our children because they have grown up, we should provide the same understanding of maturing to those who are unable to eat independently, even if they never feed themselves in the traditional manner. AT to facilitate independent eating brings not only independence, but freedom of choice, dignity, and improves self-esteem as well as reducing the risk of choking or aspiration.
In the early days of using AT for independent eating, five of the devices that were available were called feeders or eaters: The Mia One-Step Electric Feeder; The Cerebral Palsy Feeder; The Winsford Feeder; The Eatery, and the Neater Eater. Today there are fewer devices on the market in the United States that provide independent dining for those who lack arm and/or hand function than in the 1990's, and, finally, none of them have feeder or eater in their name!
Did You Know?
Did you know that 4 out of 10 Americans either own, or are familiar with, wearable devices.

Techopedia

explains that "A wearable device is often used for tracking a user's vital signs or other pieces of data related to health and fitness, location, or even his/her biofeedback indicating emotions. Wearable devices may rely on short-range wireless systems such as Bluetooth or local Wi-Fi setups." As the connectivity for these devices become more reliable, other applications are becoming feasible. It is anticipated that this technology can enable medical data for patients who are immobile, to be monitored ongoingly while they are at home. As this becomes practical, more people can avoid extended hospital stays where they are being monitored, rather than receiving treatment. Additionally, once people are discharged from the hospital, wearable devices can monitor changes in vital signs and can gather a wide range of other information from the wearer's body. The advent of this type of technology can significantly improve the quality of life of people who are immobile by allowing them to remain in their home and still be "watched" by all of the medical team that needs to monitor them. Early identification of health issues can allow rapid treatment to lessen the duration and severity of the problem.

More information about the potential of wearable's can be found at the

Health System Management website

.