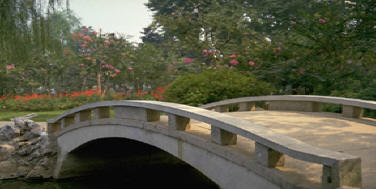 The Mealtime Partner: Providing a Bridge to Greater Independence
Electrical Safety and EMC Compliance Testing
A test Mealtime Partner was provided to Nemko USA on September 18, 2006. The device was tested to international standards. EMC testing, according to EN60601-1-1-1, was performed and the device passed all aspects of the testing. An EMC Test Report was generated by Nemko: Nemko 6L0375EEU1. Safety tests were according to EN60601-1-1-2. All tests were passed and documented in Nemko Safety Report 72208. Based on the test reports, a CB Certificate was applied for and received (issued 2006-12-19). The CB Certificate permits Mealtime Partners, Inc. to declare conformity with European and International Standards and place the CE Mark on the Mealtime Partner.
Note: the CB Scheme is the world's first truly international system for mutual acceptance of test reports and certificates dealing with the safety of electrical and electronic components, equipment and products. It is a multilateral agreement among participating countries and certification organizations. A manufacturer utilizing a CB test certificate issued by one of the accepted National Certification Bodies (NCBs) can obtain certification marks of the latter, within their scope of adherence, in the countries where the accepted NCBs are located. There are currently 40 member countries, including all of the EU countries.
As a result of obtaining the CB Certificate, and the Declaration of Conformity to CE Standards, the Mealtime Partners has earned the right to be labeled as follows:.
Labeling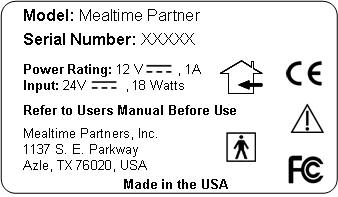 DEVICE SYMBOL DESCRIPTION
| | |
| --- | --- |
| | Attention - Refer to User Manual Before Use |
| | Type BF Applied Part (Internal powered, floating ground. Can be brought into contact with user.) |
| | CE Marking (Meets European Standards for Class I Medical Devices) |
| | For Indoor Use (Do not expose to rain or high humidity) |
| | Meets Federal Communications Commission (FCC) Requirements. |
| | Dispose of at designated recycling centers. |
This page last updated 11-22-2017.