MtP Part No. 's 6568, 6569, and 6570
Pal Pad Adaptive Switches - See Prices Below
Pal Pad Switches are pressure activated membrane switches that require just the slightest touch - only 1.2 ounces of force - to activate. They can be activated from above the switch by applying pressure straight down on the switch, or at a shallow angle. Equipped with a standard 1/8-inch plug makes them usable with any assistive device with
a standard 1/8-inch jack. Rigid and durable pads are approximately one-tenth inch thick. The Pal Pad is available in three sizes. The Pal Pad

Mini

Adaptive Switch is 2 inches by 2 inches. The Pal Pad

Small

Adaptive Switch is 2.5 inches by 4 inches, and the Pal Pad

Large

Adaptive Switch is 4.5 inches by 6 inches. Pal Pad switches can be mounted using Velcro or other "hook and loop" products, or alternately, can be placed on a flat surface, like a table or wheelchair laptray, and held in place using a non-slip mat or a sheet of Dycem.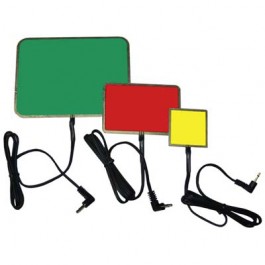 The Pal Pad is available in three sizes:
| | | | | |
| --- | --- | --- | --- | --- |
| PART NO. | DESCRIPTION | PRICE | S & H | PURCHASE |
This page last updated 12-26-2017