MtP Part No. 6562
The Specs Switch - $89.95

The Specs switch is the most versatile and durable small switch available. With a 1 3/8-inch activation surface, this switch is small enough to be worn, but is most often used as a mounted switch. The Specs switch includes three bases: a standard flange base, a space saving flush base and a strap base for mounting around items. A 24-inch strap is included for mounting using the strap base..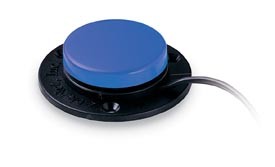 The Specs switch now comes in a variety of colors. Available colors are: Red, Green, Yellow, Blue, and Black. Colors are selected when the order is placed. Just click the "Buy Now" button, above.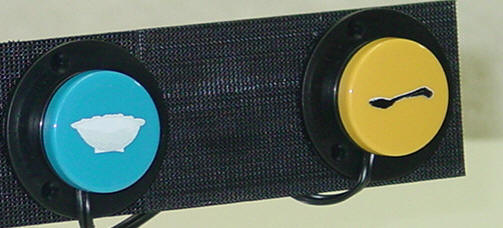 Blue and Yellow Spec Switches Mounting on a Surface using Velcro
Blue and Yellow Specs switches come with symbols of a Bowl and Spoon on them, as pictured above, for use with a Mealtime Partner Dining Device. In addition, the plug for each switch has the word Bowl or Spoon to identify which jack on the Mealtime Partner to use. Other colors come without the symbols.
A convenient method for using Spec Adaptive Switches with the Mealtime Partner Dining System is to mount them on a flat surface using Velcro. The flat surface can be placed at a location convenient to the user. The switches can be easily repositioned for the user as needed.
| | | | | |
| --- | --- | --- | --- | --- |
| PART NO. | DESCRIPTION | PRICE | S & H | PURCHASE |
| 6562 | Specs Switch | $89.95 | $15.00 | |
This page last updated 12-26-17