MtP Part No. 4973
Attachment Holder for Slide-Track - $59.95


The Attachment Holder can be attached to any of the slots in the wheelchair UniTrack rails using the UniTrack T-Nut, two screws and hex wrench (that is provided with it). The T-Nut easily slides into either slot in any of the UniTrack rails and is tightened using the hex wrench to hold the Attachment Holder securely at that position. The Attachment Holder can accommodate tubing ranging from 11/16 to 7/8 inches (17 to 22 mm). It allows the wheelchair to hold a Flex Arm or flexible conduit, or other similar size rods and shafts. The Attachment Holder can be oriented with the thumbscrew up, down, left or right by changing the holes used for the two screws. The Attachment Holder facilitates mounting various controls, drinking systems, etc., to meet the specific needs of each individual.
If your only application is to securely attach a Mealtime Partners Flex Arm to a wheelchair with Slide-Track, it is recommended that you consider Mealtime Partners parts 4970 and 4971; Flex Arm Holders specifically designed for holding the Flex Arms. The Attachment Holder shown here is appropriate for securing flexible conduit.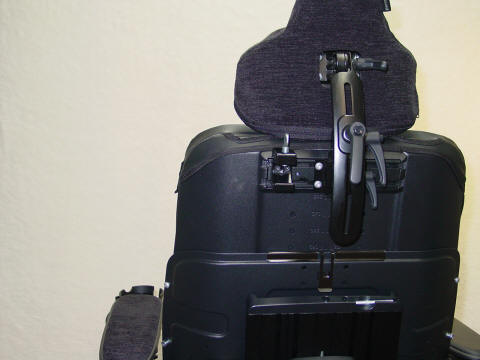 Attachment Holder on Slide-Track Rail
The Attachment Holder for Slide-Track is an integral part of the Mealtime Partners Hydration Backpack with Drinking Tube Positioning Drinking System. Shown above, the Attachment Holder is attached to the Slide-Track rail near the headrest. The flexible conduit that positions the drinking tube (referred to as flex tubing) and bite valve, is held in the Attachment Holder by tightening the thumbscrew. The liquid container (i.e., backpack) is also hung from the Attachment Holder. The flex tube is formed around the chair to hold the drinking valve near the users mouth, as pictured below.
Attachment Holder Used for Drinking System
| | | | | |
| --- | --- | --- | --- | --- |
| PART NO. | DESCRIPTION | PRICE | S & H | PURCHASE |
| 4973 | Attachment Holder for Slide-Track | $59.95 | $15.00 | |
This page last updated 12-21-2017