The Flex Arm
Flex Arm (often referred to as flexible gooseneck tubing) can support an object and hold it in position. It is adjustable and can be re-positioned by bending. It is very rigid and will stay put after being re-positioned. The ends of the Flex Arm are solid shafts that are around 0.8-inch in diameter and 1-inch long so they can be clamped onto. Also, each end has a threaded hole (1/4"-20 thread), so objects can be screwed to it. Flex Arms are available in various lengths to accommodate different purposes.
The pictures below illustrate the use of a Flex Arm in the MtP Front Mounted Drinking System with a 30-inch long Flex Arm (MtP Part No. 6030). (The complete drinking system shown consists of a heavy-duty Flex Arm that has a Wheelchair Clamp (MtP Part No. 4960) on one end and a cup holder on the other.)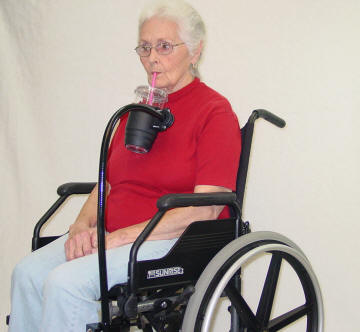 Front Mounted Drinking System with a 30-Inch Flex Arm
The drinking system mount is clamped to the frame of a wheelchair. The Flex Arm is bent to position the cup holder and the cup it contains close enough to the user's mouth so that they can easily access the straw. Once bent, the Flex Arm shaft holds its position well.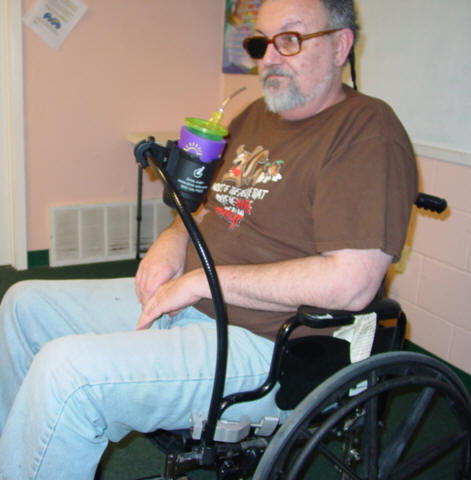 Front Mounted Drinking System with a 24-Inch Flex Arm
This page last updated 02-21-14.