As the leading provider of hands free eating and hands free drinking equipment for disabled people, our mission is to enable individuals of all ages to eat and drink independently and thus enjoy a better quality of life.
HANDS FREE EATING AND HANDS FREE DRINKING SYSTEMS:
The Mealtime Partner Dining System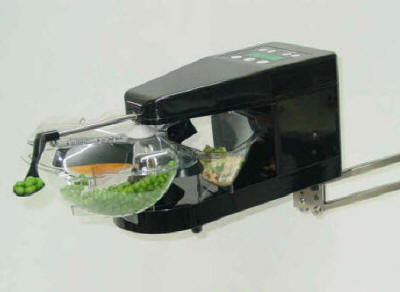 Assistive technology that empowers individuals with disabilities to feed themselves.
To learn more about assistive eating, please click on

Dining,


and/or

view our (4-minute) video

.
Mealtime Partner Dining System
The Mealtime Partners powered feeding device provides hands free eating for all ages. It is designed to meet a wide range of user needs and is flexible enough to accommodate those needs as they may change over a lifetime, or during an illness. The Mealtime Partner assistive dining device is by far the finest powered feeding device ever developed.
To view all of the Mealtime Partner Dining System variations, click here.
Hands Free Drinking Systems
Because adequate hydration is essential for health and healing, Mealtime Partners offers a variety of Drinking Systems that can allow independent drinking in many different environments. The Front Mounted Drinking System shown below can serve a cup of coffee to start out the day, iced tea with lunch, and any other beverage throughout the day.
Water is the single most important nutrient for the body's vitality. The Hospital Bed Hydration System (below left) can provide water for those individuals who are restricted to a hospital bed. The Hydration Backpack with Drink Tube Positioning (below right), can make water (and other drinks) available throughout the day (and night, if desired).
Because of the great importance of proper hydration, Mealtime Partners carries a complete line of assistive drinking products. Click the following link to learn how to select the appropriate drinking system. To view all of the Mealtime Partners Drinking Products, click here.
For TECHNICAL SUPPORT please give us a call.
We can help you determine the optimal dining OR DRINKING system to suit the needs of any specific user
Contact us at:
Mealtime Partners, Inc.
1137 S.E. Parkway
Azle, TX 76020
Telephone: 800-996-8607
In Texas: 817-237-9991
Fax: 817-237-0102
Thank you for visiting our website.