Mounting and Positioning Assistive Technology Devices
For individuals who must use assistive technology to facilitate many of their daily functions, the equipment must be positioned and mounted to facilitate easy access. First, it must be determined what the equipment is going to be mounted to. In most cases this will be a wheelchair, tabletop, or bed. Major mounting considerations are the weight of the item to be mounted, the required position, how it will be accessed (hand, switch, eye gaze, etc.), and what other equipment is needed at the same time (like a joystick control for a wheelchair).
Within the world of mounting systems there is a broad selection of equipment that facilitates mounting electronic devices such as: communication devices, telephones, laptop computers, iPads, etc. Manufacturers of some of these electronics products develop mounting systems for their specific technology to accommodate various types of wheelchairs, beds, etc., as they deem appropriate. When purchasing a communication device for example, the mounting system will typically be sold with it. The communication device is of no use if it is not positioned so that it can be used. Yet there is a lot of electronic equipment that do not have a specific mounting system and a generic mount must be used. This is when selecting a mounting method becomes more difficult. Companies like CJT Enterprises, Inc. and Daedalus Technologies, Inc., provide third-party mounts that provide a method for attaching many pieces of equipment to a wheelchair. However, their efforts are directed specifically towards mounting electronics rather than mounting all items that might be needed.
Illustrations of Daessy Mounts from Daedalus Technologies, Inc.
Many items that are mounted are accessed by the user with their hands. However, for those individuals who do not have adequate use of their hands and arms, other access methods must be made available. (Refer to the Mealtime Partners, Inc. March 2011 Newsletter article on adaptive switches for more information on this topic). One of the most common hands free methods of access to equipment is through Sip N Puff switches. Sip N Puff switches can be used to operate a wheelchair or to operate an environmental control unit (electronic aids to daily living) that can turn lights or a fan on or off, control a television or DVD player, open and close a door, and be used for many other applications. A YouTube video of someone demonstrating a Sip N Puff to control an environmental control unit can be viewed by clicking here.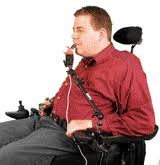 Picture of a Man Using a Sip N Puff Wheelchair Control
One of the problems with a lot of the equipment that is available for wheelchair mounting is that it has limited mounting and positioning options. An example of this is cup holders for wheelchairs. It is assumed that the user will be able to reach the cup or bottle in the cup holder and lift it to their own lips with their hands and arms. This is an impossible task if you have any type of paralysis affecting your upper limbs. However, there are a very limited number of wheelchair accessories that do not require the use of hands.
When addressing how to attach equipment to a wheelchair, table, or bed, whether the equipment will need to be taken on and off regularly must be a primary consideration. Many communication device mounts snap on and off quickly and easily (see the first illustration in this article for an example of a removable mounting system) but other mounts take tools to install them and are more difficult to remove once they are installed. This is the first requirement that should be taken into account when selecting a mounting system. Next, if mounting to a powered wheelchair, the functions of the chair must be considered. If the chair reclines, or the seat raises and lowers or has a standing function, this range of motions must be addressed so that the new mount does not interfere. Once these issues have been taken into consideration the remaining options may be quite limited. Many assistive technology specialists have a broad knowledge of mounting systems and can provide guidance as to the best choice for a specific application. Also, some companies that provide mounting systems are able to provide advice as to how to mount a specific assistive device.
Mealtime Partners, Inc. (MtP) has a diverse independent eating and drinking product line. Most of the products require mounting to a firm object because they provide hands free use. In some cases the equipment needs to be clamped to a table-top, in other instances it must be attached to a wheelchair or a bed. To accomplish these tasks requires flexible clamps and, of course, it is impossible to be able to meet all clamping needs. However, because our goal is to meet the needs of a diverse user population, when other products are unavailable for mounting your assistive technology to a particular device (wheelchair, bed, etc.) we also provide semi-custom clamping systems to accommodate a wide range of mounting needs for eating and drinking. Semi-custom describes clamps, and clamping accessories, that are already used by Mealtime Partners, Inc. that, to meet an unusual mounting need, may be slightly modified or combined to provide a unique mount. In some circumstances, these one-of-a-kind systems later become a product within our standard product line.
MtP focuses on mounting eating and drinking equipment for hands free access. For individuals who are unable to use their hands and arms, or who have very limited use of them due to weakness or limited control, our goal is to provide access to the basic necessities of life: food and liquid.
For more information about hands free eating and drinking, please visit our website by clicking here.
Did You Know? According to a report issued by the Alzheimer's Association titled "2011 Alzheimer's Disease Facts and Figures", there are almost 15 million people providing care to individuals who have Alzheimer's and dementia. They provide 17 billion hours of unpaid care that is valued at $202 billion. Caregivers suffer emotionally and physically due to the burden of caring for these individuals. Because of the toll on caregiver's health, these caregivers had a $7.9 billion in additional healthcare costs in 2010. "Free care" is not always free!
The Importance of a Healthy Mouth and Teeth to Enjoying Eating
Have you ever had a canker sore in your mouth? If you have, you will be aware of how difficult it is to enjoy eating when every bite that you take hurts. The same thing applies if you have toothache. It is almost impossible to enjoy a bite of food let alone a full meal if your mouth or teeth hurt. Common causes of a sore mouth are: a sharp or broken tooth, biting your cheek, tongue or lip, burning your mouth from hot food or drink, braces, or chewing tobacco.
Many caregivers and healthcare providers overlook problems that might stem from a sore mouth. It is not uncommon to think that someone's reduced appetite is directly related to their being ill, yet it might be because eating is painful. Before drawing conclusions about the cause of the reduced food intake, it is wise to check inside the mouth of someone who is unable to verbalize what is wrong, but who exhibits reduction in food consumption, behaves as if they are uncomfortable, or just seems not the same as usual.
Over time, poor oral health will lead to overall reduction in health. Lack of oral care can result in tooth decay, gum disease and other oral problems, including infection. In addition to the health issues associated with these conditions, when teeth are not brushed and flossed, the individual will develop bad breath that will lead to a negative reaction from those who are around him or her. This is damaging to self-esteem and social interaction.
Daily oral health care is extremely important for everyone, and includes brushing and flossing, and sometimes rinsing with fluoride or other rinses. For individuals with disabilities that are severe enough to make it impossible for them to brush their own teeth, oral care can be very difficult. This problem can impact people of all ages and for a wide variety of reasons. It is common for oral care and regular visits to the dentist to be of a lower priority than many other health issues and oral care is, therefore, sometimes neglected.
Parents of children who are born with, or acquire, severe disabilities, are confronted with an ongoing, extensive, level of care that they must provide for their child. In many instances the child has multiple health problems that must be addressed. Because of the level of care that is required, oral health is often overlooked as being less urgent or significant. Yet, it is beneficial, in the long run, to undertake some level of oral care from a very early age. Starting early makes the care become part of a familiar routine and removes some of the stress that can exist with oral care. For children who have serious aversions to being touched on or around their mouth, consult a speech pathologist, pediatric dentist, or other early intervention specialist for advice on how to desensitize the child's mouth enough to enable daily brushing without it being a battle.
Beyond daily brushing and flossing, regular preventative care dental checkups are recommended to maintain a healthy mouth. There are two major difficulties that exist with undertaking dental care: 1. Finding a dentist who is qualified and comfortable with treating people with disabilities who might be difficult to work with, have involuntary movement, or are afraid, and therefore might need sedation for routine care; 2. Being able to afford dental care. Lida1, et al., concluded that children who were screened as having several special healthcare needs were the most likely to have unmet dental care needs and the lowest rate of dental care use compared with children who did not have any special care needs. An article titled "Dental Care" provides insight into finding a dentist and the use of anesthesia to facilitate behavior control during dental treatment. Also, the Office for People with Developmental Disabilities in New York, through their Task Force on Dentistry, has a broad range of information which can be found on their website at www.opwdd.ny.gov/hp_dentistry_index.jsp.
For those who do not have dental insurance coverage, being able to afford dental care is in many cases prohibitive. The reimbursement rate for Medicaid recipient's dental care is minimal to nonexistent and, therefore, it is difficult to find services for those individuals. Oddly, the movement in the United States to deinstitutionalize the care of adults with disabilities by moving them into community based living situations, has lessened the availability of dental care. Thirty years ago dentists were willing to provide dental care in a centralized setting (institutions), because they could treat many people in one location. Now, when people live in many different communities it is hard to find a dentist who is: willing to treat Medicaid patients because of the inadequate reimbursement rate; has training and experience treating people with disabilities; and, is willing to treat patients who might be difficult to work with, and require additional staff help and take much longer to treat2.
The U.S. Census Bureau estimates that 20 percent of the population has some type of disability and 12 percent are severely disabled. More than a third of adults over age 65 are severely disabled. With our growing population of seniors, this special-needs population can be expected to increase, thus increasing the number of individuals whose dental needs will be unmet3. Many seniors have lost many or all of their teeth and/or have dentures. For some this does not present a problem but for others, ill-fitting dentures can cause a sore mouth, or can make chewing difficult. Dentures need regular cleaning and also gums should be regularly cleaned to prevent gum disease and bad breath.
The difficulty of affording and acquiring dental care reinforces the need for diligent daily care of both teeth and the mouth. The U.S. Department of Health and Human Services, National Institutes of Health, National Institute of Dental and Craniofacial Research, publishes a document titled: Practical Oral Care for People With Developmental Disabilities, Dental Care Every Day: A Caregiver's Guide. It stresses that "A healthy mouth helps people eat well, avoid pain and tooth loss, and feel good about themselves." The guide provides an overview of how tooth brushing, flossing and dental visits can be accomplished. However, it does not provide details or recommendations for dealing with difficult circumstances.
There are several organizations that can assist with finding appropriate dental care. They include the American Academy of Developmental Medicine and Dentistry and the American Association of Geriatric Dentistry. The University of Florida, College of Dentistry4 at www.dental.ufl.edu/faculty/pburtner/scdlinks/ provides an extensive list of resources that can be useful.
In conclusion, regardless of the age of the individual, everyone should receive regular dental care, but the principal barriers to care are limited public and private dental insurance and the limited number of dental professionals who are qualified to treat those who have severe disabilities. Without dental care, problems with teeth and mouth will occur and this will remove the enjoyment of meals and may lead to weight loss and ill health. Therefore good oral care is extremely important.
Mounting and Positioning the Mealtime Partner Dining System

Because proper positioning is so important to independent (and safe) eating, Mealtime Partners, Inc. offers several mounting systems for the Mealtime Partner Dining System. Not only can the device simply sit on a table for use, but its height can be adjusted (for table use) by mounting the device on legs of several lengths. For those who sit in a wheelchair to eat, the device can be mounted on a mounting shaft or on its Support Arm. Flexible mounting methods available for the Mealtime Partner Dining System facilitates positioning the Mealtime Partner in a comfortable position to eat for almost any user profile.

Individuals who have limited range of upper body control or who fatigue easily from the effort of controlling their body movement should use the Mealtime Partner mounted on the Support Arm because it has infinitely variable positioning (within its total range) .

For more information about the Mealtime Partner Dining System, click here.

The Mealtime Partner Mounted on a Support Arm

Click the following link for prices and for ordering the Mealtime Partner Dining System. An appropriate hands-free drinking system should also be considered. To select the best drinking system to go with the dining system, click here.

The Mealtime Partner Dining System is made in the U.S.A. by Mealtime Partners, Inc.
Copyright © Mealtime Partners, Inc. 2011
All rights reserved.