MtP Part No. 4960
Wheelchair Clamp - $79.95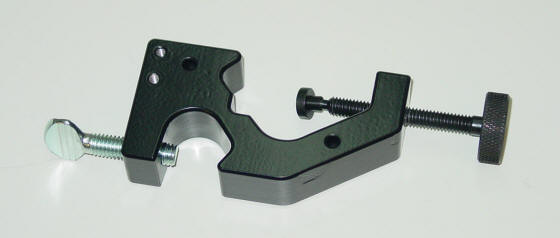 Wheelchair Clamp Laying on Table
This clamp is designed specifically to attach to a wheelchair frame and can be oriented in any direction, vertically, horizontally, or on angled parts of the wheelchair frame. It will attach to tubular components ranging from 3/8" to 1 1/4". Although designed specifically for wheelchairs, it can be used to clamp onto any piece of furniture or object with tubes or shafts (like bed rails) with the diameters described above. It will also clamp to tables up to 1 3/4" thick.
The opening near the top of the Clamp with a Thumbscrew constitutes an attachment holder that is an integral part of the Wheelchair Clamp. The integral attachment holder will accommodate either (0.675") Flex Arm or 1/2" Flexible Conduit that are used with the Mealtime Partners Drinking Systems but can be used to hold any tubes or shafting from 11/16" to 7/8" (17 to 22 mm) in diameter. For example, it can accommodate many of the different shafts that are part of a Sip N Puff control. The four photographs below illustrate the versatility of the Wheelchair Clamp by showing two different locations for attaching the MtP Front Mounted Drinking System to a manual wheelchair and also for attaching it to a square structural component of a powered wheelchair.
Wheelchair Clamp Attached to Vertical Post
Wheelchair Clamp Attached to Right Arm
Wheelchair Clamp Holding Front Mounted Drinking Systems
There are two threaded holes near the top of the Clamp on both sides of the Clamp where an optional Wheelchair Clamp Attachment Holder (MtP Part No. 4975) can be attached. The Wheelchair Clamp Attachment Holder is the same size and shape as the integral attachment holder and serves the same purpose. This provides additional locations and directions for attaching another Flex Arm, Flexible Conduit or Sip N Puff control shafting.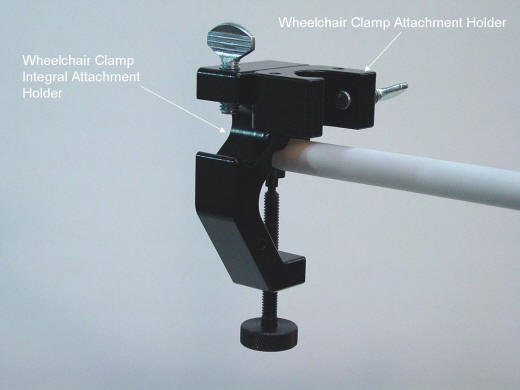 Wheelchair Clamp with Attachment Holder Installed
The Wheelchair Clamp integrated Attachment Holder and the additional Attachment Holder both hold shafts in place using a Thumb Screw allowing easy installation without the use of tools.
Attachment Holder Mounted Vertically

Attachment Holder Mounted Horizontally

Wheelchair Clamp with Attachment Holder holding two types of Tubing
Advantages of the Mealtime Partners Wheelchair Clamp:
Holds securely to wheelchair frame, table top, or bed rail

Also, securely holds Flex-Arm, Flexible Conduits or other types of shafting or tubing

Item being held will not easily rotate away from user

Small Compact Size

Easy to Install and Remove

Can accommodate up to two additional Attachment Holders for mounting additional devices
| | | | | |
| --- | --- | --- | --- | --- |
| PART NO. | DESCRIPTION | PRICE | S & H | PURCHASE |
| 4960 | Wheelchair Clamp | $79.95 | $15.00 | |
This page last updated 12-23-17