Mealtime Partners, Inc.
Specializing in Assistive Dining and Drinking Equipment
March 2013 Independent Eating and Drinking Newsletter
New: Digital/Interactive Product Catalog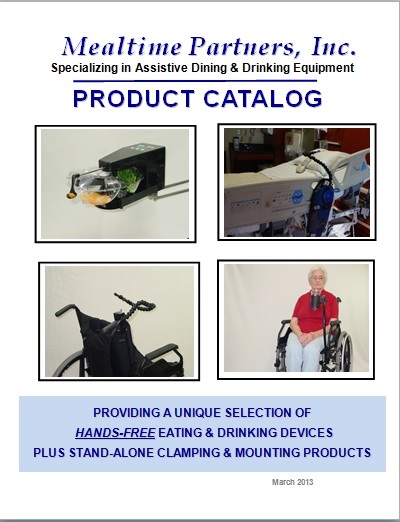 Mealtime Partners now has a downloadable/interactive product catalog. For more information, or to download the catalog,

click here

.
For the best speed and performance interacting with the Mealtime Partners website, save the downloaded ".pdf" file on your computer and open it with Adobe Reader.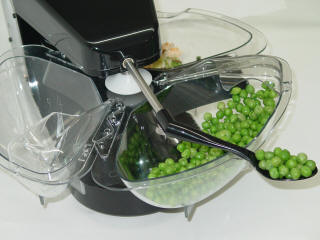 Pass the Peas Please



Peas aren't the easiest things to pick up, but the Mealtime Partner can reliably serve bite after bite of them if that's what you want. If not, just move on to the next bowl and sample the pasta salad.

The Mealtime Partner empowers its user to eat what they want, when they want it.



To see a video of the Mealtime Partner Dining System,

click here

.

To discuss how it might meet your specific needs, call us at 800-996-8607 or email us by

clicking here

.

(Be sure to include your telephone number so we can give you a call.)




The Mealtime Partner Dining System is quick and easy to learn and has no complicated programming requirements. Each Dining System comes with a complete training video on DVD so new users and caregivers can learn to use it in just a few minutes. To view a list of the instructional videos that may be selected by title,

click here

.

The Mealtime Partner is by far the best assistive dining equipment ever developed. Before the engineering design team ever started, the design requirements for it were developed by a team of medical experts working with potential users. They examined the shortcomings in prior designs, the needs and desires of users, and the special requirements for providing safe and reliable operation in the various, often harsh, environmental settings where it must function. This resulted in the design of a dining system with quiet operation, that is easy to setup and use, easy to clean, has high durability (will last many years), serves food reliably, and is very safe to use. There are no other devices currently on the market that can even come close to matching its performance. For more information about the Mealtime Partner,

click here

.



The Mealtime Partner meets the Medicare and Medicaid definitions of Durable Medical Equipment (DME). The United States Food and Drug Administration (FDA) considers the Mealtime Partner to be a Class I type medical device. The Mealtime Partner has successfully completed all governmental electrical safety and electro-magnetic compatibility (EMC) compliance testing. For more information about safety testing,

click here

.
Adaptive Switch and Small Device Mounting Systems
For many years Mealtime Partners has provided custom adaptive switch mounts for clients whose needs could not be met by the switch mounting systems that are currently commercially available. The company will continue to provide this service as needed. However, because we frequently encounter adaptive switch mounting requirements, we have become aware of some of the unmet needs and shortcomings of currently available switch mounting systems. The most significant shortcomings are that articulated arms mounted using Super Clamps are often overkill for an installation. They are both bulky and elaborate to install and, because the arm adjustment is held in place with a handle, they are susceptible to slipping when pushed or pressed with force. Therefore, we recognized the need for a simple, versatile, stable mounting system that can meet the needs of a large number of users. This mounting system must be easy to install and adjust, must hold its position well, and be relatively low in cost. To meet these requirements Mealtime Partners has produced a line of 5 different length mounting systems. Each mounting system includes an arm and clamp.
Mealtime Partners Flex Arm Mounting Systems are very easy to use. Once they are assembled, they can be mounted and removed without the use of tools. This makes changes in environment, (e.g., classroom to cafeteria, wheelchair to bed, etc.) easy to accommodate for those who access equipment in many different settings. Also, positioning and repositioning the mounting plate can be done quickly and easily using the ball and socket end module that is a permanent part of the Flex Arm Mounting System. The angle and rotation of the mounting plate is adjustable using this end module, and for larger adjustments, the flex arm itself can be bent into a different shape. However, because the flex arms are heavy duty, they do not bend easily. And, once the flex arm is bent, it will hold the new position until it is adjusted again.
Smaller pieces of equipment are frequently mounted with clamps and arms that are easily positioned on, and removed from, the surface to which they are attached. The most commonly used clamp and several mounting arms currently being used for mounting assistive equipment were originally developed for the professional photography industry. There was a need to position lights and cameras on sets and in the studio, very accurately. The need was filled by the Super Clamp (sometimes called the Universal Clamp) and a variety of articulated arms. The arms attach to the clamps with special studs that are designed to fit the mounting socket of the clamp. These clamps and arms are commonly used to mount adaptive switches and lightweight electronic devices (phones, etc.) to wheelchairs, tables or bed rails.
Mealtime Partners found the photographic equipment clamp did not always attach firmly to the surface to which it was being mounted. For this reason, Mealtime Partners developed it's wheelchair clamp: the MtP Wheelchair Clamp (MtP Part No. 4960). The Mealtime Partners clamp accomplishes all of the functions of the Super Clamp but is less bulky, and its all-metal design is less likely to slip or loosen its hold on the surface to which it is attached. Mealtime Partners products that successfully utilize this clamp include the Hydration Backpack with Tube Positioning (MtP Part No. 6559), and the Front Mounted Drinking Systems (MtP Part No.'s 6006, 6012, 6018, 6024, & 6030). Now our line of products that use this clamp has been expanded to include adaptive switch mounts which are comprised of a Flex Arm Mounting System (of specified length) and an Adaptive Switch Mounting Plate Kit for the selected adaptive switch. To select the mounting system for your application, for example a Micro Light Switch, decide where the Micro Light switch needs to be positioned for activation (e.g., right temple), and measure from the right temple to where the switch is going to be attached or mounted (e.g., the right handle on the back of the wheelchair). Add at least three inches to this measurement and select the Flex Arm that is at least that length. (For example, if your measurement was 9 inches, select the Flex Arm Mounting System with the12-Inch Flex Arm.) This provides extra Flex Arm length for making a smooth bend in the flex arm for switch positioning. You will then need to purchase: a Micro Light Switch Mounting Plate Kit (MtP Part No. 5140); a Flex Arm Mounting System with 12-Inch Flex Arm (MtP Part No. 5112); and a Micro Light Switch (MtP Part No. 6564), if you do not already have one. The swivel head section of the Flex Arm is 3 inches long but should not be included in the measurement calculation as it is used to adjust the angle of the switch, after the switch it is installed.
The Jelly Bean Mounting Plate can also be used to mount small devices that can be attached using Velcro. Two sets of Velcro are provided in the Mounting Plate Kit as an alternative method of mounting the switch to the plate. If the switch is going to be removed from the mounting plate frequently attaching it with Velcro, instead of the screws, is more appropriate because it can be removed and returned to the plate easily. Velcro, or other brands of sticky back hook and loop tape, is available in a variety of sizes and colors at most home improvement and hardware stores: Home Depot, Lowes, or Walmart, if another application requires more tape.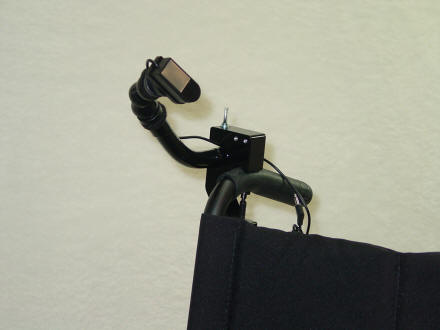 Micro Light Adaptive Switch Mounted on the Handle of a Wheelchair
positioned for Head Activation using a Flex Arm Mounting System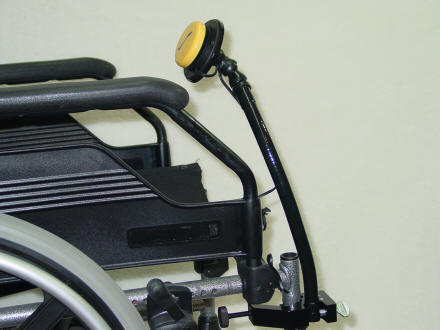 Jelly Bean Adaptive Switch Positioned for Finger Activation
In summary, Mealtime Partners has expanded their product line to include five different-length Flex Arm Mounting Systems that facilitate mounting adaptive switches and small devices quickly and easily to wheelchairs, tables and bed rails. Each Flex Arm Mounting System is supplied with a clamp that is able to attach to a variety of surfaces, including rods or tubes (both round and square, like found on many wheelchairs and beds), and flat surfaces (like table surfaces). These mounting systems utilize the Mealtime Partners clamp that was developed when it was determined that other available clamps were unable to hold our drinking products securely. Although these Mounting Arms and Plates will not meet every user's needs, they are a quick and easy method of mounting and positioning adaptive switches and other small/lightweight devices and will meet the needs of many users. They provide stable positioning without the need of tools knobs and handles for initial setup or adjustments. Additional information about all of these mounting products can be found at Mounting Products. If you would like to discuss your mounting needs with a company representative, please email mounting@mealtimepartners.com, or call (800) 996-8607.
Did You Know?
Did you know that researchers at Boston Children's Hospital have developed a method of encapsulating pure oxygen gas in an injectable fatty foam suspension. Using the same principles employed to administer chemotherapy drugs and ultrasound dyes (that typically disperse slowly in the blood stream), the researchers have developed a method that allows the particles to release the oxygen as soon as they enter the bloodstream. This research has the potential of revolutionizing the emergency treatment of patients who have stopped breathing due to cardiac arrest, asthma attacks, and injury to the lungs or airways, and who are at risk of brain damage due to oxygen deprivation. Should the research prove to be safe for use with humans, it could be applied in a wide range of emergency medicine situations including on the battlefield, in hospital emergency rooms, on crash carts, and in ambulances. For more information on this subject, refer to the following research article:

Oxygen Gas–Filled Micro-particles Provide Intravenous Oxygen Delivery

.
Mealtime Partners Website Navigation:
Home | Dining | Drinking | Videos | All Products | Warranty | Ordering | Calendar | FAQ | Newsletters | Contact
Please send comments and suggestions to newsletters@mealtimepartners.com
Copyright © Mealtime Partners, Inc. 2013
All rights reserved.